Hi! My name is Caroline Dunn, and I am one of Tina's athletes and the webmaster for her website. I've combined my knowledge of running (under the coaching of Tina Klein) with my Alexa dev skills to create an app for Amazon Alexa called, "Running Clothes."
I created "Running Clothes" to take the guesswork out of getting dressed for outdoor runs based on weather.
I entered "Running Clothes" into an international Alexa contest, (over 400 entries), and was selected a Top 10 Finalist. I am now competing for an international grand prize for best Alexa Skill.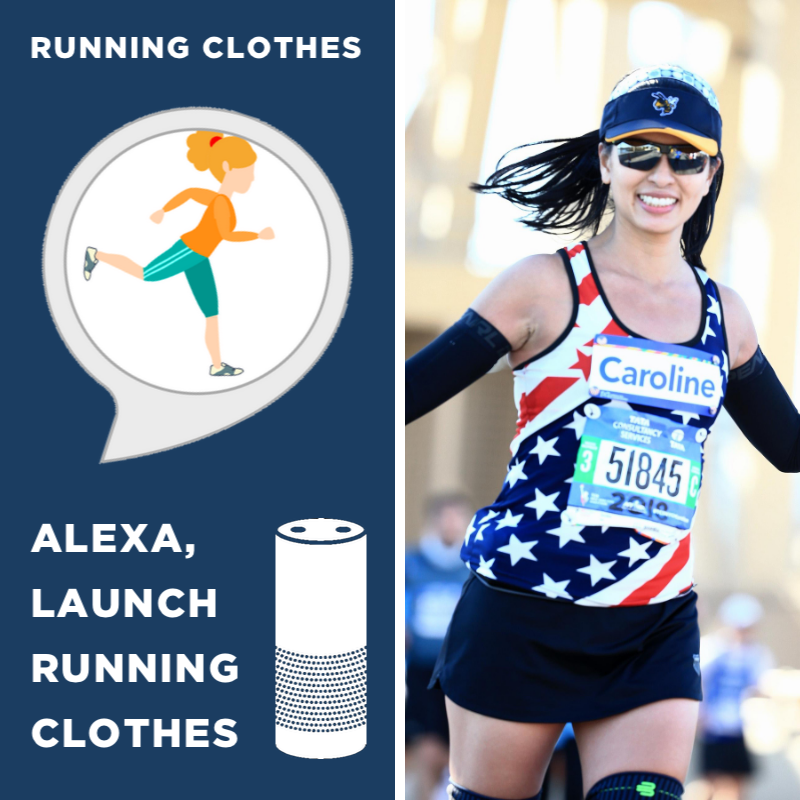 Out of the 10 finalists, "Running Clothes" is the only fitness related app.
I am also the only female in the top 10 finalists.
The grand prize is determined by a combination of judges' scores and public engagement.
I would truly appreciate your help in spreading the word about my Running Clothes app on Alexa.
Contest dates are March 16 – 29, 2019. During this time, Amazon will be tracking customer engagement from unique users and returning users.
Instead of a vote, we are voting with devices.
If you have an Amazon Echo device, all you have to do is say, "Alexa, launch Running Clothes"
You can still participate with your smartphone if you don't have an Alexa.
Steps to Setup Running Clothes on your smartphone with Alexa app
Download the Alexa app onto your phone.
Open the Alexa app and login using your Amazon Shopping credentials.
Touch the Alexa icon at the bottom / middle of the Alexa app
And say, "Launch Running Clothes"
If you wish to have Alexa automatically pull the weather, you'll need to enable postal code permissions in the Alexa app.
Direct link to my app – http://runclothes.com
My contest entry here – https://devpost.com/software/running-clothes
Blog post: http://alexadevgroup.com/run
About Caroline Dunn:
I am a 2018 NYC Marathon finisher. I logged over 1,100 running miles last year. I have completed 10 half marathons and 3 full marathons since 2014.
I coded the entire app in JavaScript / NodeJS on my own. I learned JavaScript specifically to code for Alexa.
Tutorial Videos for Smartphone Users